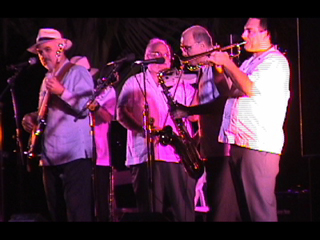 LATIN BANDS
Hot, hot hot! Dancers, singers, and musicians bring you an energetic and colorful show of Latin rhythms and melodies.

Ranging from a solo Latin/flamenco guitarist or a great Latin/jazz pianist to a larger group, our Latin groups can create the nostalgic "Buena Vista Social Club" style or turn it up with salsa and merengue.

As the band plays a cross-section of popular Latin dance music, the costumed Salsations Dancers perform merengue, salsa, flamenco, and more.

Instrumentals and a singer explore a range of Latin American and Caribbean musical styles. Salz's Latin Band is a vibrant tour of South American cultures through dance and music.

The group is available with two to four dancers and a 2 to 8 piece band.