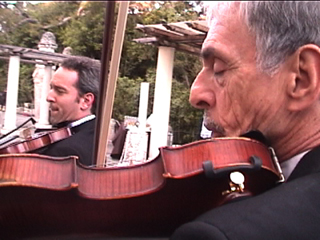 CLASSICAL

For wedding ceremonies or intimate receptions a pianist, violinist,guitarist, harpsichordist, or harpist can create the uniquely beautiful classical sound.

Any of these soloists can be paired up in duos, trios, or the traditional string quartet.

For a one -of-a-kind sound consider the Dolce Ensemble:

This group, comprised of a beautiful lyrical flute, sweet melodious violin, soulful cello and harpsichord with all its elegance is a choice offering for the enjoyment of chamber music.

The ensemble specializes in wedding ceremonies and receptions, intimate dinner parties, special events as well as cocktail hours for larger corporate parties.

From the well known Pachelbel Canon to classical selections such as Tartini, Corelli and Bach, the group offers a lovely visual effect and a unique sound with harpsichord.

All of the musicians in The Dolce Ensemble have years of experience as symphony musicians as well as chamber music players.