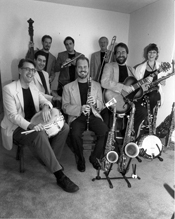 Simon Salz Productions provides a broad spectrum of music for weddings, corporate events, fund-raising events, charity galas, social events, intimate gatherings, and any special-occasion need.
Simon Salz Productions, Inc. specializes in matching exactly the right musicians to each event. Whether for a small and intimate gathering or a major corporate reception, we handpick the performers to fit the musical style desired. Each group reflects the highest levels of musicianship and professionalism.

Simon Salz Productions is a preferred music vendor for the Hotel Intercontinental-Miami, Le Basque Catering, Bill Hansen Catering, Sara Sharpe Catering, Catering by Lovables, George Mena Catering, Fairchild Tropical Gardens, University of Miami School of Medicine, University of Miami Bascom Palmer Eye Institute, A Joy Wallace Catering, Palm Catering, Raleigh Hotel, among many others.

Reliability, dependability, flexibility, and a complete understanding of a broad spectrum of popular, jazz, and classical music.
Call (305) 256-2696